This is what we value...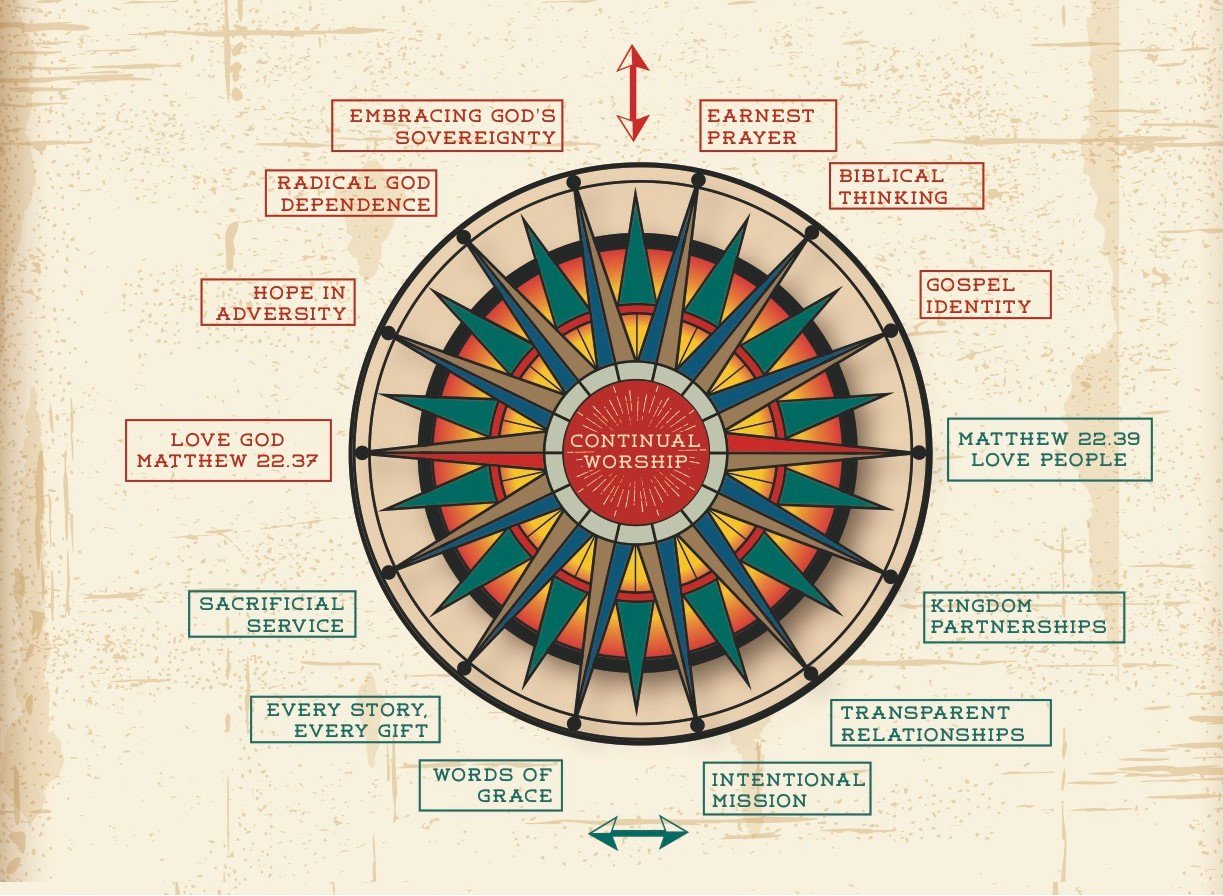 Continual Worship
This is really the ultimate value. All other values flow from this and to this. Jesus said the 1st commandment is to love the Lord your God with all your heart, soul, mind and strength. This means that every moment of every day, every part of who we are should be continually worshiping Jesus. To be a disciple of Christ is to live a life that is absolutely consumed with the pursuit of knowing Him in the most intimate way possible, which means we are willing to rearrange any part of our lives that keeps us form that pursuit. Paul communicates this clearly in Philippians chapter 3, when he says:
"But whatever gain I had, I counted as loss for the sake of Christ. Indeed, I count everything as loss because of the surpassing worth of knowing Christ Jesus my Lord. For his sake I have suffered the loss of all things and count them as rubbish, in order that I may gain Christ and be found in him, not having a righteousness of my own that comes from the law, but that which comes through faith in Christ, the righteousness from God that depends on faith-that I may know him and the power of his resurrection, and may share his sufferings, becoming like him in his death, that by any means possible I may attain the resurrection from the dead. Not that I have already obtained this or am already perfect, but I press on to make it my own, because Christ Jesus has made me his own. Brothers, I do not consider that I have made it my own. But one thing I do: forgetting what lies behind and straining forward to what lies ahead, I press on toward the goal for the prize of the upward call of God in Christ Jesus. Let those of us who are mature think this way, and if in anything you think otherwise, God will reveal that also to you."
- Philippians 3:7-15
If we love Him with all that we are then our lives will appear to be nothing short of obsessive and even wasteful to the world. This is not an overstatement or exaggeration, but the call of every Christian and the reality of those who are mature. While Paul clearly explains this pursuit, Mary gives us a beautiful picture of this pursuit in Mark 14.
"And while he was at Bethany in the house of Simon the leper, as he was reclining at table, a woman came with an alabaster flask of ointment of pure nard, very costly, and she broke the flask and poured it over his head. There were some who said to themselves indignantly, "Why was the ointment wasted like that? For this ointment could have been sold for more than three hundred denarii and given to the poor." And they scolded her. But Jesus said, "Leave her alone. Why do you trouble her? She has done a beautiful thing to me. For you always have the poor with you, and whenever you want, you can do good for them. But you will not always have me. She has done what she could; she has anointed my body beforehand for burial. And truly, I say to you, wherever the gospel is proclaimed in the whole world, what she has done will be told in memory of her." - Mark 14:3-9
From the other gospel accounts of this same story we find out that the ones who were indignant with her and thought she was being wasteful were the 12 disciples themselves. But no matter what people say or think we must continually call ourselves back to the truth that Jesus is infinitely more valuable than anything else in our lives. We must continually call each other to this type of love and devotion for our Savior..... Every moment, of every day, with every part of who we are.
Biblical Thinking
We are transformed by the renewing of our minds (Rom. 12:2). The bible is not just information it is food for our soul. We don't live by bread alone, but by every word that comes from the mouth of God. No culture in history has had more access to the word of God than ours, yet we are still biblically illiterate. We must live in the Word. It must consume us. We must memorize it, read it, meditate upon it, and speak it out loud to each other and ourselves. The question that should be constantly asked in our community is simply, "What does the bible say?" Don't assume that you know, or others know. Open up the book. Put your finger on the text and apply it to your life.
Gospel Identity
The gospel does not just give us something that lacked, it makes us something that we were not. We have been born again as children of God (John 1:12-13). Every day we are either living FROM this new identity or we are working FOR a new identity. We try to get our identity from people so we bow to their every request to try and please them. We try to get our identity from our job so we become workaholics. We try to gain our identity from where we live, what we drive, and how many toys we have, so we overspend to get it. We try to get our identity from money and so we are willing to compromise, cheat, lie, and hurt others to get it. The good news of the gospel is that we don't have to do anything to gain our identity. It's been given to us. We must constantly be reminding each other of this reality. Even when we sin. We are His children. Even when we doubt we are His children. Even when we fail we are His children. This is what Paul calls us to do in Ephesians 4 when he tells us to speak the truth in love to one another. We must remind each other that what we do does not define who we are, but who we are defines what we do. (1 John 3:1-2, Eph. 1:5, 2:19, 5, Rom. 8:15-16, Gal. 4:6-7)
Earnest Prayer
Prayer is the first work of the Christian life. Oswald Chambers said, "Prayer does not equip us for the greater works...prayer is the greater work." The bible affirms this:
....pray without ceasing, - 1 Thessalonians 5:17
....be constant in prayer. - Romans 12:12
And he told them a parable to the effect that they ought always to pray and not lose heart. -Luke 18:1
...praying at all times in the Spirit, with all prayer and supplication. To that end, keep alert with all perseverance, making supplication for all the saints, - Ephesians 6:18
Continue steadfastly in prayer, being watchful in it with thanksgiving. - Colossians 4:2
We don't just have a prayer life, prayer is our life. As a community we must call each other to this constantly. Our default mode is to try and figure things out ourselves without going to prayer first. The simple question we need to be constantly asking each other is, "Have you prayed about that?"
Embracing God's Sovereignty
Yes, we have a will. Yes, our decisions matter. Yes we must choose to follow Him.... But man's will is not ultimate, God's is. Every generation has needed to be reminded of this, and our's is no different. There is one who holds our very breath in His hand (Dan. 5:23). He knows where we will go before we do. He knows what we will think before we think it. He knows what we will say before we say it. (Psalms 139). We are called to acknowledge this even in the way we speak about our future plans (James 4:13-17). But we are called not just to acknowledge it but to delight in it. There are many who want to debate this reality. We believe we are called not to debate it, but to declare it. Not just to explain it and analyze it, but to proclaim it to every nation under heaven. Our God reigns!!! And we love it!!!
Every Story & Every Gift
Hebrews tells us that Jesus is the "author" and "finisher" of our faith. Therefore, each of our stories is not really 'our' story but 'His' story. We value every disciple's story because in it we can learn more about who He is and be amazed at how He has worked in their lives to display His glory. Every person that God has saved has also been given spiritual gifts. We seek to understand and benefit from every person's gift in order that we may all grow into maturity and effectiveness to the glory of God. We are not able to live victoriously as individuals if we are not tightly knit together in community where we know each person's story and gifts.
Hope In Adversity
I hope I get the raise at work... I hope our team wins... I hope I can stay healthy... I hope we have a safe trip... This is the way we speak of hope, but this is not the way the bible says we are to hope as followers of Christ. When we say we hope, we mean that we really want something to happen, but we aren't really sure that it will. When the bible speaks of the hope that we have as Christians it tells us that we can be certain that what God has said will happen will come to pass. At the most foundational level our hope is not just in an event or a circumstance but in a person. Paul said in the opening greeting of his letter to Timothy that Christ Jesus Himself is our Hope. As our Hope (noun) we can be certain that He will fulfill all that He has promised because He has passed through death and rose again from the grave. Our greatest opportunity to be a witness to the world is precisely when it is most difficult to do so. In the midst or hardship, suffering and adversity. We cannot waste these seasons and must remind each other to take full advantage of the opportunity we have to display the hope that Christ gives and is for those who trust in Him.
Intentional Mission
The first word of command in the Great Commission is 'Go!' It is an action word that must be obeyed. Since we as His disciples seek to not just hear but also obey all that He taught, our lives must be marked by 'going.' Going across the room the introduce yourself.... Going across the street to great a new neighbor.... Going to a coffee shop to talk about Jesus.... And going across the world to tell the nations about Him. Going will not just happen by itself, it will happen through intentional obedience to the leading of the Spirit in our lives. The other aspect of intentional mission is that we 'speak' the good news of Christ's work to others. It is not enough to cloth, feed, house and give money to those in need. We must do all those things but if we are never intentional about telling them that Jesus is the King of all who came to save them from their own sin and not just meet their physical needs, then we have not accomplished the mission. The gospel is the power of God unto salvation for all who believe and each one of us must say it with the voice that we have been given for the sake of His beautiful name among all who do not yet know Him.
Radical Dependence
God wants us to trust Him and our lives should reflect the fact that we do. Hebrews says that without faith it is impossible to please Him. James tells us that faith without works is dead. God is not displeased with us when we ask Him to do things for the sake of His Kingdom that only He has the power to provide. It is possible to know plenty of bible, hold the right confession, and give the correct answers, but if we are not actively trusting Him to move in our lives and in our church then we will grow dead in our relationship with Him.
Sacrificial Service
Love will always cost you something. The greatest display of love will cost you everything. Jesus said, "This is my commandment, that you love one another as I have loved you. Greater love has no one than this, that someone lay down his life for his friends. - John 15:12-13 It's not possible to love someone and never serve them. Most times the thing we will be sacrificing will be our own preferences and personal desires. However, Jesus also makes it clear that He calls us not just to defer on matters of preference and opinion but also to give up our very lives for others as He laid down His life for us. Sometimes we can think we are loving people but in reality, we are using them. The question that helps us discern whether or not we are loving like Jesus loved is: "do my loving actions towards them ever cost me anything?" If we are a community that serves each other in a costly, sacrificial way then everyone will receive love and show love in a way that brings glory to our God.
Transparent Relationships
Transparent relationships are the mark of a people who understand grace. Not because we make light of sin, but because we hate sin so much and know that the only way to destroy it is to bring it into the light. James says that we are to confess our sins to one another and pray for one another so that we may be healed. Confession should be an ongoing characteristic of our fellowship with one another. The bravest people in our church are those who confess their failures and ask for help. Not just because they are facing their own darkness, but because when they confess they are giving others the courage and strength to step into the light as well.
Words of Grace
Ephesians 4:29 says, "Let no corrupting talk come out of your mouths, but only such as is good for building up, as fits the occasion, that it may give grace to those who hear." That we can impart grace to one another with our words is truly an amazing concept. Words help shape culture. Imagine what the culture of our homes, neighborhoods, workplaces and church would become if each one of us purposed in our hearts that, by the help of the Spirit, we were going to impart grace with our words to every person we came in contact with. In order to impart grace with our words we must be fluent in all that the gospel entails. Imparting grace does not come by minimizing truth, but by maximizing it. When another brother or sister in Christ has consistent sin habits in their lives they need other members of the body to impart grace to them with their words so that they can overcome. Not by ignoring the sin, but by reminding them that Jesus overcame that sin through His death and resurrection and now lives forever to help them live victoriously.
Kingdom Relationships
The name 'Mercy Hill" will not last forever. It will pass away and be forgotten, but the name of Jesus will endure forever and His kingdom will never pass away. Therefore, we strive to partner with other people, ministries and organizations that also understand this and who are also willing to minimize their own name in order to lift the name of Jesus higher. We believe this needs to be a specific value because it seems that the drift of churches over time is to think that they are the only ones doing things right. We want to constantly remind ourselves that God has A LOT of people and ministries all over the world that are working for the sake of His kingdom in ways that are much more effective than we are and that we should serve and learn from these groups in whatever way we can.