What's your next step?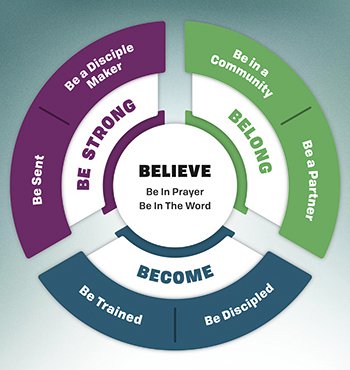 Believe
Be in the Word
Join our church-wide bible reading plan. Every Age on the same page.
Be in Prayer
Join us at one of our corporate prayer times throughout the week.
Belong
Be in Community
Join a small church where everyone helps to shepherd each other while also serving together to bring light into dark places.
Be a Partner
Attend our next partnership class and learn more about what we believe, who we are, how you can serve & why we believe that all of us exist to continually worship Jesus.
(check the homepage for any upcoming classes)
Become
Be Trained
Invest a year of your life to become a more effective disciple maker by taking the Equipped & Empowered course (E2), which is designed to help you become fluent in the gospel, mature in your gifting & equipped for the mission of making disciples.
(class is not currently open to new participants)
Be Discipled
Choose to be poured into by another disciple who has walked with the Lord a little longer than you have.
Be Strong
Be a Disciple Maker
Choose to intentionally pour into at least one individual, in order to help bring them to maturity in Christ.
(contact someone on our leadership team or send an email to: info.mercyhill@gmail.com)
Be Sent
Go on one of our short term trips. Serve, learn, share the gospel & be stretched for his glory.
(check our homepage for any upcoming trips)